Achieve Elegance with Roman Shades
Although once considered to be a bulky and out-dated type of window covering, roman shades recently have made a revival into contemporary home decor and window treatments.
They offer the same variety of design options and opacities to filter out the sun's light from your home and can even be lined with insulating fabric for an added layer of temperature control and privacy.
Designed For Royalty, Affordable In Your Home
Roman shades get their name from the way that they appear when they are raised, as a decorative piece of fabric that once adorned Roman structures. They come in a couple different styles and, with the help of Galaxy Window Coverings, can be customized to fit any window in your house.
Flat roman shades
For the homeowners who like bold patterns and need your window coverings to match, we suggest that you install flat roman shades in your home. These are constructed with on long piece of fabric that is folded flat in front of your window. These types of roman shades do not have any seams which helps to bring out the style and design of the chosen fabric and makes your window coverings seem casual, yet sophisticated.
Waterfall, hobbled, looped or teardrop roman shades
Unlike the flat roman shades, waterfall, or hobbled roman shades softly cascade back and forth, creating a ripple effect with the fabric. Drawing more attention than traditional shades or blinds, waterfall roman shades make for a delicate, soft and chic design element to your home's decor, perfect for bedrooms, living rooms or other relaxing parts of your house.
Like roller shades, roman shades can be made up of any type, style or design of fabric so matching your shades to your decor is a breeze! Contact Galaxy Window Coverings today to have us help pick out your style, fit and install and service your roman shades for years to come.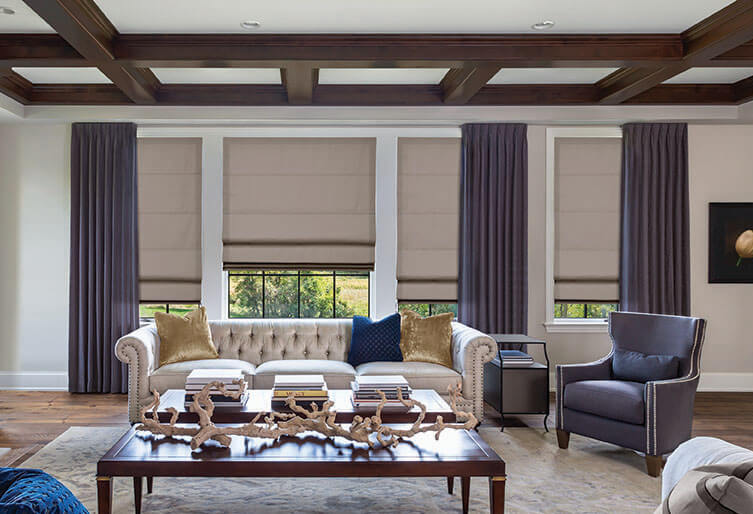 Window Coverings For Every Mood
Galaxy Window Covering is proud to sell Color Lux window shades and blinds from Comfortex - one of the premier manufacturers in the window treatment industry. Color Lux was developed with one goal in mind - to make interior designing with window treatments easy, efficient, and beautiful. Let's face it, the hardest part about any home design project is making sure the colors and textures you choose harmonize with each other and the rest of your room. It shouldn't be that way. With more than 800 colors to choose from, matching your paint is a snap.