Horizontal Blinds Are Not Boring
The reason that horizontal window blinds continue to be the most chosen concept for window coverings in residential homes and commercial offices is their cost-effectiveness and easy installation.
You may think that horizontal blinds may be boring. Still, modern blinds come in various styles and colors, are made of different materials, and even come anti-static treated to resist dust. On top of their renowned light control, horizontal blinds can be raised, lowered, or tilted and can also be made to fit any home decor, from contemporary to classic.
Custom Horizontal Window Blinds
Metal Blinds
More often than not made from aluminum, metal blinds offer sturdiness and durability that many homes and offices require. As with any type of horizontal blinds, metal blinds come in any style and color and can be customized to fit any window in your home.
Vinyl Blinds
Similar to metal blinds, vinyl or plastic blinds are both a popular and a greatly affordable solution to window coverings in your home or in an office. They also come in colors and styles to match any type of decor.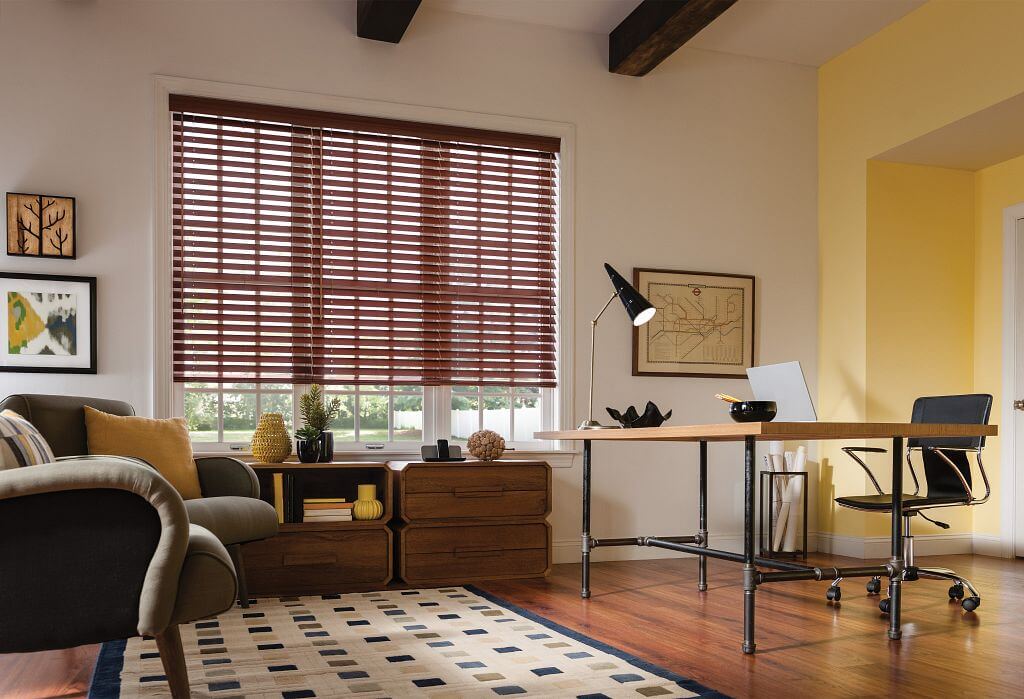 Wood Blinds
Horizontal blinds made out of wood add a natural warmth and unique design element to your home. Wooden blinds can come in many different types of woods and finishes, and depending on your style preferences, can be customized by Galaxy Window Coverings to match your room's decor. Many people who already have either wood floors or furniture prefer to also have horizontal blinds made out of wood to help tie the room together.
Faux Wood Blinds
Faux wood blinds are made up of both wood and vinyl, where the end product looks like wood but costs less than full wooden blinds. Not only are faux wood blinds less expensive, they are also more resistance of scratches, marks, fading, cracking, and moisture. Like wooden blinds, faux wood blinds come in a large variety of colors and styles.
Mini Blinds
For the smaller or narrower windows in your home, mini blinds are a great solution for a custom window covering that offers the same lighting control. Generally made out of sturdy aluminum, these type of blinds, like all other types of blinds, come in a wide variety of colors and styles and pricing fits well within the budget of any home or business owner.
Galaxy Window Coverings will help guide you through the entire process of selecting the perfect horizontal blinds, installation, and service. We also perform horizontal blinds repair. Contact us today to find the perfect solution for your windows.
Schedule a Window Covering Consultation in Loveland, CO
When you want more than a window coverings company, reach out to Galaxy Window Coverings. We treat every client like family as we walk you through the design process for custom window treatments in every area of your home. With us, you'll have a team that takes the time to get to know you so that we can create something that reflects your unique style.